This week's Fifty-Two on Friday theme is Magic.  And you probably didn't know this, and we didn't either until just a week ago, but we have magic elves.  Yes, it's true.  They came all the way from the North Pole and landed at our house on Thursday morning December 1st.  We're not exactly sure how they got here; I guess it's just part of the magic. :o)  We woke up Thursday morning and walked down to our breakfast area and found perfectly decorated table filled with powdered donuts, strawberries, marshmallows, Oreos, candy canes, and milk . . . and two elves sitting ever so politely waiting for us to join them.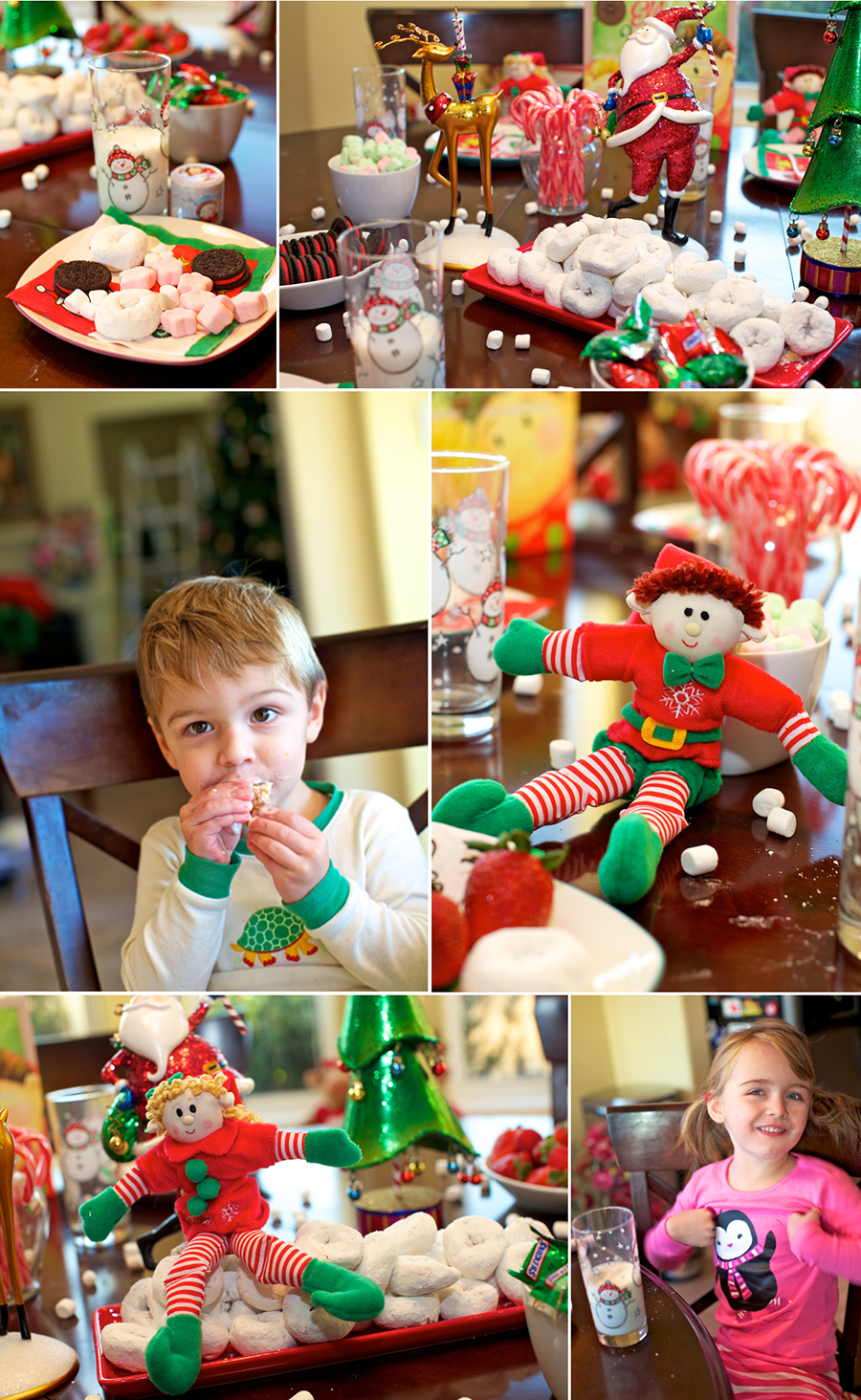 Also on the table were two rolled up notes from Santa with a candy cane on top.  While our kids dove into the powdered donuts and Oreos (these elves certainly wanted to make an impression), I read the notes from Santa:
"These Magic Elves are here to spread the magic of Christmas in a very special way, and to remind us all to share love and kindness each and every day.  The Elves report behavior back to Santa, both naughty and nice.  So hopefully before anyone is naughty, they will now think twice.  The Elves have received permission to be with you until Christmas day.  At which time, they'll say "Tally-Ho!" and hop on my shiny red sleigh.  To keep the Elves' magic alive each night, you just need to sprinkle them with magic snow and hold them real tight.  Have fun with the Elves; treat them oh so kindly and sweet.  Who knows?  During the night they may bring you a very special treat!"
Hayley and Colin were so excited!  Hayley named her Elf Snowflake and Colin named his Elf Puppy.  They were cute little elves and behaved so well that day.  But what we didn't know about these elves, but soon found out, was that at nighttime these Elves play pranks and love to get into a little mischief.  Each morning when we wake up, the elves have gotten into some sort of mischief.  So far we've caught them riding around plowing snow marshmallows with Colin's tractor, taking a ride on Colin's brand new train set, and this morning we caught them diving into bowls of Fruit Loops.  Silly Elves!  We'll keep you updated on our little Elf adventures.


Keep the magic alive and see what Amy Ames from Holly Springs, NC Photographer http://www.amyamesphotography.com has in store.