If you are new to my blog, let me catch you up.  At the beginning of the year, I teamed up with 19 other photographers and we challenge each other with a different creative theme to photograph and post each Friday.  In light of St. Patrick's Day, this week's 52 on Friday theme is the Color Green and Shamrocks!  I know, how fun!  So, I decided to do a little twist on this weeks's theme and show you a little peek into my life . . . all in GREEN!  Here ya go: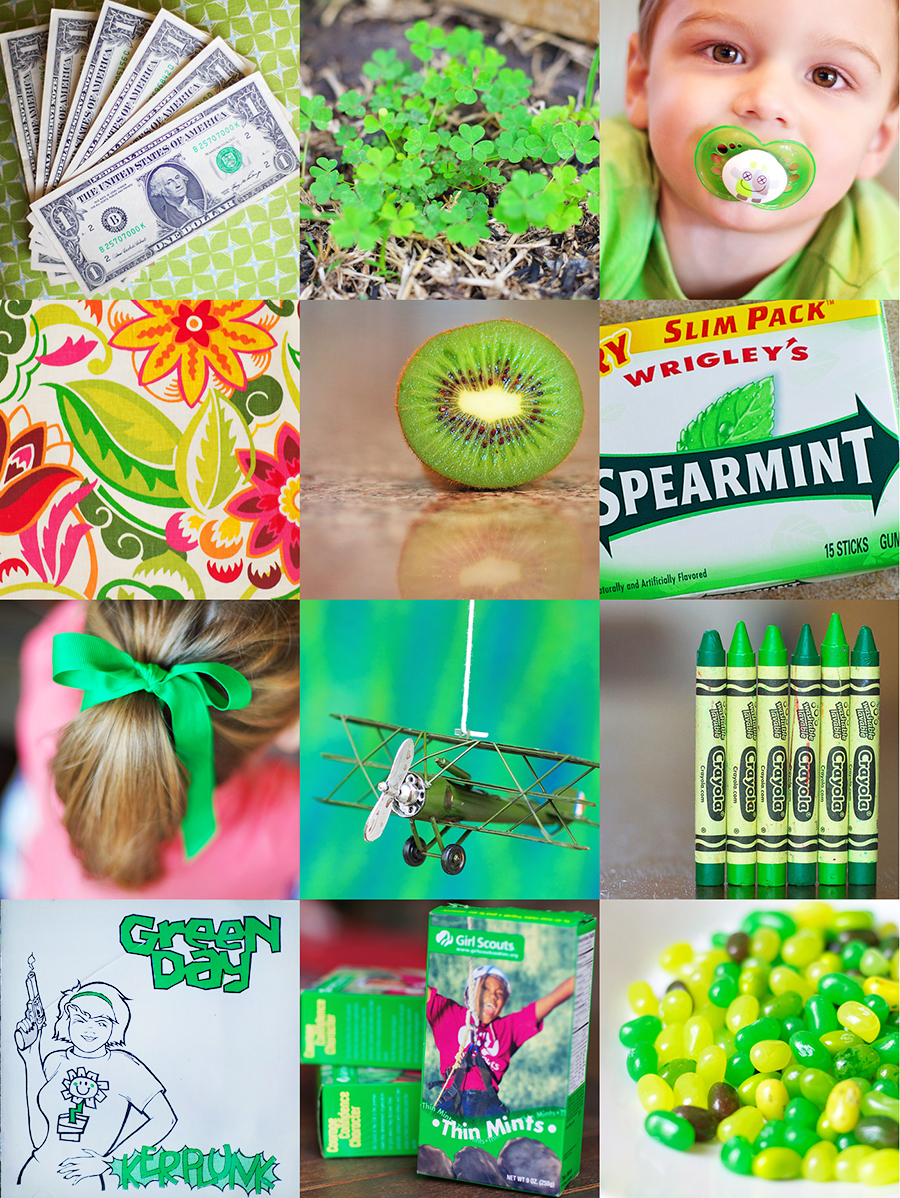 Money:
Who doesn't love a little cold hard cash?!  Actually, my husband works with financial advisors, so money (aside from shopping) reminds me of him!
Shamrocks: These lovely shamrocks are straight from my front yard!
Pacifiers: Reminds me of my little boy.  His favorites are the green ones!
Fabric: I LOVE fabric!  I found this fabric at Pottery Barn and with it made four valances for our kitchen.
Kiwi: This little fruit reminds me of one of my favorite countries I've visited, New Zealand of course!
Wrigley's Spearmint Gum: The smell reminds me of my grandma.  I miss her.
Bows: My daughter and her bows. Oh, how she adores bows and oh how I adore putting them in her hair.
Airplanes: My son's room is all about airplanes. I just couldn't resist. I love 'em too.
Crayons: The simple art of coloring. I hope it never goes away.
Green Day: How would I ever have made it through high school without them?!
Thin Mints: Is there a more addictive cookie on the planet?!  We're on our fourth box.
Jelly Beans: This little treat just makes me happy. 4 calories of yummy goodness.
Next head on over to Megan's Smykal's blog to see her take on the Color Green and Shamrocks: http://megansmykalphoto.blogspot.com