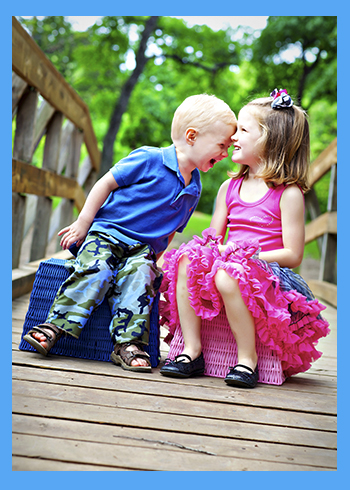 I am a natural light photographer and love the creativity that comes from shooting on location. Whether it's your backyard, a fun park, a historic downtown, there's always fun places to explore.
And my style is a bit different than most. I'm not your typical line 'em up and say "cheese" type of gal. I love candid moments and real expressions. That's why we try to a lot of fun in our sessions. We may sing and dance, or tell silly jokes. But, the real magic comes from moments that are real and genuine.
My goal is to give you pictures that show interaction and personality. For me, photography isn't about documenting what a child looked like. It's about capturing a bit of their spunk, their sweetness, and their soul. If your little girl loves dancing around like a princess, bring that tiara. If your little boy thinks he's superman, make sure to pack his cape! Whatever makes your children special, we want to capture that!
I am truly a huge fan of props! When done right, they add so much to the overall character and feel of the picture. Whether it's a cool chair, brightly colored candy, a fun tutu, a parasol, or a pair of galoshes, I've found that kids love them and the pictures turn out great as a result. I say we play and have fun. And I'll capture the magic of childhood along the way!