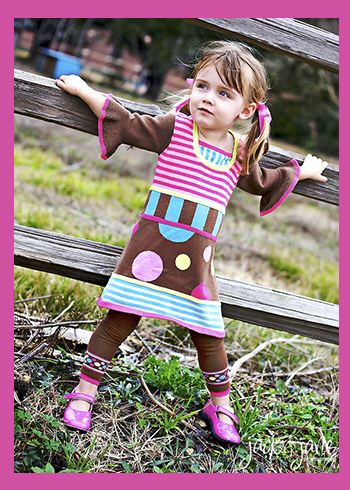 I say put your kids in the cutest outfits you can find!  Your pictures will certainly show for it!  If you don't have an outfit for them that you're totally in love with, go out and buy something.  Once you see the pictures, you'll thank me!  In portrait photography, great clothing goes a long way!
Play around and have fun with your children's wardrobe (and yours too)!  Trust me, you won't regret it!  And if in doubt, bring a few changes of clothes to the shoot. We'll have fun changing things up. And don't worry too much about matching in color; just try to coordinate in tone and you should be fine.
For Spring and Summer pictures, I think little girls look absolutely adorable in fun bright colored skirts and summer dresses.  If your daughter loves to play dress-up, by all means bring that tutu!  For boys, bright colored shirts always photograph well.  You may even want to have some fun and layer two shirts together.  For the adults, just play around and find what looks best on you.  Oh, and for Spring and Summer, socks and shoes are optional!
For Fall and Winter pictures, I think everyone looks great in jeans and bright colored sweaters.  But, you may want to change it up a bit and throw the girls into some fun skirts or dresses with bright-colored leggings.  Think lots of texture and layers and you'll do great.  For boys, have fun with layers as well and maybe add in a vest.  Funky scarves, boots, and hats also photograph well.
As you're going through your closet, just remember that it's NOT important that everyone dresses in the same color (not everyone has to be in red and yellow).  It's actually best if everyone dresses in a wide array of colors that coordinate well together.
If you need some ideas, I'd love to chat!  Just give me a call or drop me an e-mail and I'll send you a copy of my Client Information Guide and even give you a few suggestions on places to shop.