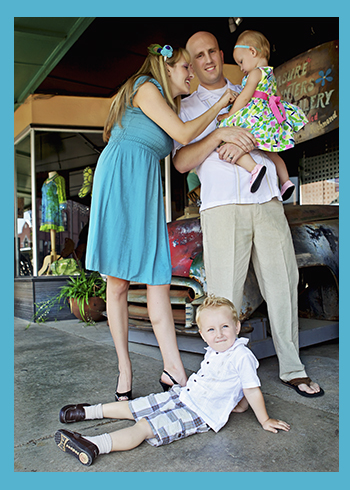 BEFORE THE SESSION

I strive to make each photo session custom tailored to your family. So, before the session I'll send out a quick client survey, so I can learn a little about you and how I best capture the essence of your family. We'll also chat over the phone to discuss the location, wardrobe, props, etc. and any fun ideas I might have. I'm always coming up with something I'd love to try out. And if you want me to arrive 30 minutes before the session to help with wardrobe, I'd love to.  I have a knack for raiding closets.
DURING THE SESSION
I love to photograph families having fun together.  We might be goofy, things might get a little silly, but under no circumstance will we take ourselves too seriously. I strive to create moments that are real, not images that are stiff and forced.  Let's go to your favorite park, an old barn, or an open field.  We can even explore a historic downtown or plan a shoot down by the railroad tracks (I promise to check the train schedules).
I want these pictures to reflect YOU. Each session lasts between 1-2 hours and you're welcome to as many location and wardrobe changes as time and light permits.  The only thing I ask is that you're willing to let me be a bit creative and have some fun.
AFTER THE SESSION
After the session I spend quite a bit of time hand-editting each image to perfection.  Approximately 1-2 weeks after your session, we'll meet at a convenient location (usually my house or yours) to view your images, order custom products, and  make design selections. Most clients really enjoy the in-person ordering session and think it's a lot of fun because it ability to see first-hand all the fun custom products.
However, if you prefer, I can display your images in an online proofing gallery.  The gallery will be posted for 3 days.  You'll receive a password which will allow you to show off your images to all your friends and family.  Once you place your order, give us about 2-4 weeks (depending upon whether you've ordered custom products) and we'll deliver everything directly to you.
I must say, family is the best form of art!